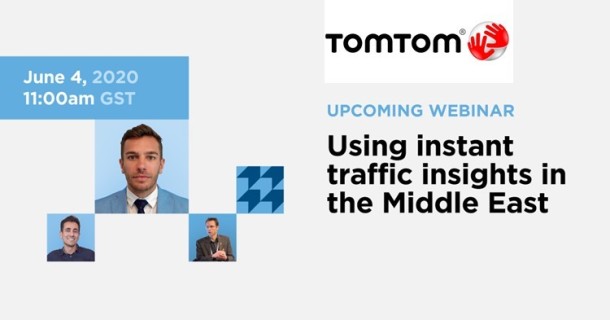 Click here to register!
This event of our CSR-Partner TomTom is FREE to attend!
The economy is taking a big hit. Will it fall or bounce back stronger? Governments, authorities and analysts worldwide are seeking answers but struggling for clues. They need relevant information right now.
Every day, millions of drivers use TomTom maps and live traffic services in connected devices. Through this data we see a close connection between traffic congestion and economic activity, and want to share this wealth of actionable location information with you.
You can use TomTom Live Traffic to gain relevant information in real time, looking at current travel demands and congestion or diving into the analysis of historical travel behavior.
Join our webinar on June 4, 2020, at 11am Dubai / GST to discover how exactly you can use TomTom Traffic insights to benefit your cities.
During the webinar, TomTom Traffic experts will present the following topics in 40 minutes, followed by an open Q&A where you can ask any questions.
* Introduction by Wouter Debeyne, Business & Partner Development Manager for TomTom Maps in the Middle East & Africa
* Tools for regional traffic insights by Jonathan Americo, Sr. Product Marketing Manager for TomTom's suite of traffic solutions
* Tools for traffic analytics by Douglas Gilmour, TomTom Customer Support Manager
We look forward to discussing how you can empower and enable your analytics with TomTom Traffic. Will we see you there?
Click here to register!