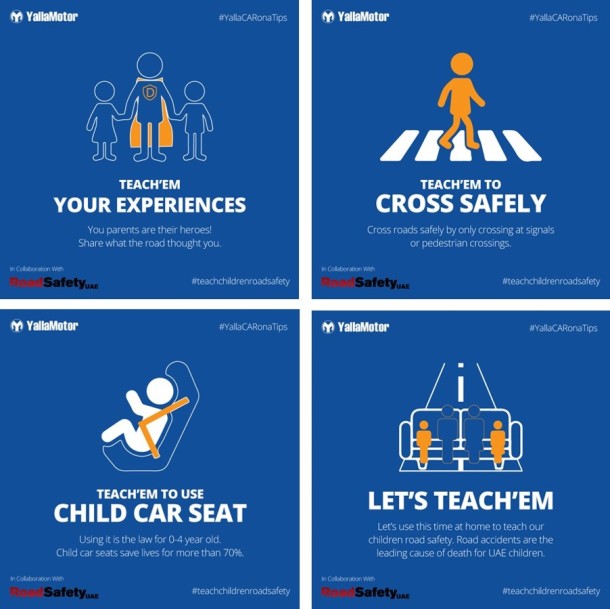 For all the 16x tips, click here!
The current COVID-19 Pandemic is testing us, but it also offers potentials. Obeying the #stayhome guidelines, we spend much more time with our loved ones. We see a great opportunity to leverage this by preparing for the 'time after'.
Meaning, road safety will touch us much more again, just like it used to. We cannot forget, that road traffic fatalities are the UAE's #2 cause of death (#1 in terms of 'life-years-lost') and the #1 cause of death for children. Also, on global level road safety remains a key concern (ref. United Nations).
Hence, why we teamed up with YallaMotor to encourage all parents, adults and older siblings to educate our children more than ever about road safety! …check out the YallaMotor blog
We have put together under YallaMotor's ongoing #YallaCARonaTips campaign these following road safety tips that you can share with your children to educate and prepare them for 'time after' Corona.
For more information about the topic, we have updated the topic 'Kids Corner' on our on-line portal. We encourage all UAE parents to check it out and they will find lots of material to engage their children, like videos, magazines, games and more.
We also created #teachchildrenroadsafety and we started communicating on social media to invite parents to take advantage of this unique opportunity.