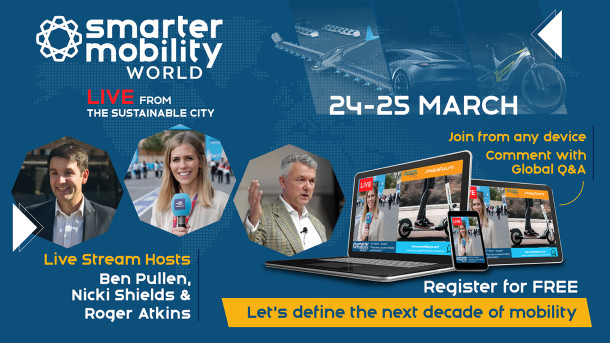 UPDATE DUE TO COVID-19 :
Smarter Mobility World LIVE will be live streamed on 24-25 March and hosted by Roger Atkins, Ben Pullen and Nicki Shields (and it is FREE!) You just have pre-register to receive the live streaming link! Click here
Join us as we define the next decade of Smarter Mobility, engage with government, industry experts and professional to show and demonstrate resilience through these challenging times.
Great speakers and partner line-up including Ministry of Climate Change UAE, Hyperloop One, BloomergNEF, eKar, SIEMENS, SkateFlash, Elroy Air, YallaMotor and many more.
We are excited to announce our first confirmed speakers who will be part of the conversation in helping shape new policy direction, discover the latest smarter mobility and electric vehicle innovations, and understand the business drivers, barriers and benefits.
Don't miss out on these and many other leading minds:
Adam Ridgway, CEO, One Moto, UK
Alan Whaley, Chairman, AMENA Auto, UAE
Anvita Varshney, Co-Founder, Dubai Angel Investors, UAE
Colin McKerracher, Head of Advanced Transport, Bloomberg New Energy Finance, Canada
Fares Al Mazrooei, Co-Founder and Managing Director, Volt, UAE
Hein Wagner, CEO, Wagner Academy, SA
John Rossant, Founder and Chief Curator, CoMotion, US
Jonathan Shine, Managing Director, Drivelectric, UK
Jorge Bialade, General Manager, YallaMotor, UAE
Karim El Jisr, Chief Sustainability Officer, Diamond Developers, Lebanon
Manuel Eduardo Pessanha, Founder & CEO, Synertics, Germany
Narendra K Saini, GM & Head: Product Management, Technology & Services, Reliance Group Company, India
Nicki Shields, TV presenter, CNN & Formula E, UK
Ro Gupta, CEO, Carmera, USA
Roger Atkins, Founder, EV Outlook, UK
Vilhelm Hedberg, CEO, eKar, UAE
Richard Knight, Vice President Sales Middle East, Bestmile, UAE
Shadi El Abdallah, Senior Advisor, Elroy Air, UAE
To find out more, go to https://generationehq.com/smarter-mobility-world