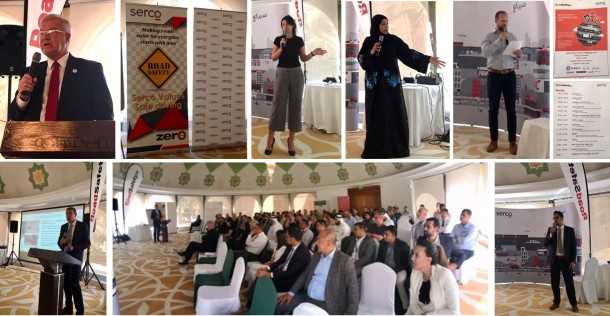 For the 3rd time in as many years, jointly with our CSR-Partner SERCO, we held the 'SERCO Road Safety Day 2018′ on 7-October-2018 in Al Ghantoot. We welcomed the usual big group of 100+ delegates.
The agenda offered insightful contributions of our CSR-Partners SERCO, RTA, Abu Dhabi National Hotels Compass, MiX Telematics, Osram, WABCO, MAN, Dubai Driving Center.
It is of vital importance for the cause of road safety to spread the awareness for proper conduct, and socially responsible companies have great opportunities in addressing their eco-system (staff, customers, suppliers) with the right messages. SERCO is a wonderful example of a responsible and committed organization with their CEO setting the scene and leading by example – the message of road safety cascades nicely and in an engaging manner throughout the SERCO eco-system. We hope for an ever increasing number of like minded organizations!
Agenda: 2018 Serco Road Safety Awareness Day 2018 – V.11-Sept-2018
Great coverage in Khaleej Times: https://www.thenational.ae/uae/transport/one-in-five-uae-drivers-had-an-accident-in-the-past-six-months-survey-finds-1.778349