Article published 6-June-2023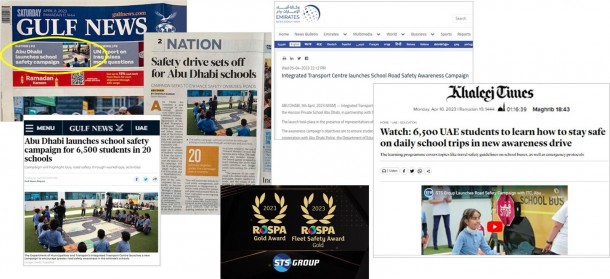 Working with the education sector on road safety is a key strategic pillar and this public-private collaboration is a great example of how to bundle forces for a good cause.
Integrated Transport Centre (ITC) in Abu Dhabi under the patronage of the Higher Committee for Traffic Safety launched its 'School Road Safety Awareness Campaign' at the Horizon Private School Abu Dhabi in partnership with our CSR-Partner STS Group in the presence of school representatives and RoadSafetyUAE.
The objectives of the awareness campaign are to ensure the safety of students on trips to and back from the school, targeting 6,500 students in 20 schools over the span of six months. The campaign is carried out in cooperation with Abu Dhabi Police, the Department of Education and Knowledge, and RoadSafetyUAE's CSR-Partner STS Group. The campaign features a unique learning environment with a curated road safety curriculum, interactive videos, and games.
Steve Burnell, STS Group Managing Director, said "The purpose of the campaign is to embed traffic safety principles, proper conduct on roads, and the values of safe driving in children from an early age. By doing so constructively and systematically, we will contribute to reducing road crashes and help raise a generation of safer drivers for the future." STS Group also produced a great video about the campaign.
Our CSR-Partner AETOS Wire kindly translated, distributed and evaluated (pw: d5FTh) the press release, which was picked up by the key media. Here are some examples:
Khaleej Times … Gulf News … WAM (Emirates News Agency)
We also want to congratulate STS Group on winning 2 times at the 2023 ROSPA Awards!