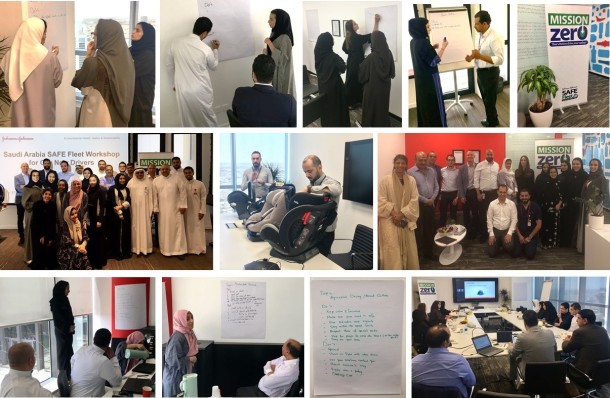 On July 1 + 2 we held 2x road safety workshops for Saudi Arabian Lady Drivers with our CSR-Partner Johnson & Johnson, which was also supported by another CSR-partner of ours Mamas & Papas. Locations were Riyadh and Jeddah.
The workshops contained live video messages from senior J&J officials underlining the importance of safe conduct on KSA's roads; interactive group work sessions; KSA statistics about the main causes of accidents and about KSA motorists behavior; J&J 'Safe Fleet' Videos linked to the main causes of accidents in KSA; a child car seat demonstration and presentation.
It was amazing to see the enthusiasm of Saudi Lady Drivers and the commitment from Johnson & Johnson to expose their staff to proper road behavior right from the beginning of their driving in the Kingdom! Johnson & Johnson sets a great example of the 'Good Employer' label of CSR!
The workshop outline in detail:
Welcome by Abdul Aziz Al Sheikh Saudi Arabia Medical Devices General Manager (via Webex)
J&J introduction by Gabriel Kardos – Senior Manager Fleet Safety EMEA & Asia Pacific (via Webex)
Warm-Up: '2 Balls, Road Safety Tips & You!'
Introduction: Overall Road Safety Statistics & Background on KSA
Main killers on KSA's roads – Teams Exercise I
Debrief of Team Exercise, figures & facts for the mail killers; J&J Videos
Child seat presentation and demonstration… Mamas&Papas
Main killers on KSA's roads – Teams Exercise II
Debrief of Team Exercise, figures & facts; J&J Videos
Resources & Conclusion