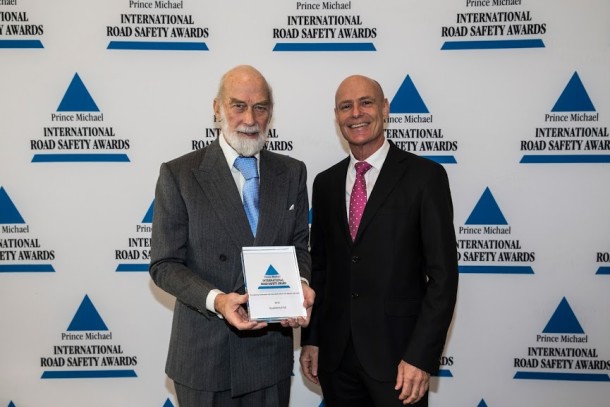 On 11-Dec-2018 in London, RoadSafetyUAE got awarded at the arguably most prestigious international road safety awards at the Savoy Hotel by His Royal Highness Prince Michael of Kent.
This award, the 'Prince Michael International Road Safety Award' (PMIRSA) has certainly not been achieved by RSU alone, but jointly with our stakeholders and partners. We want to express a big 'Thank You' to UAE's governmental entities, our current and past CSR-Partners, the UAE media and all other individuals and organizations who have been supporting our cause and our platform!
The award recognizes RoadSafetyUAE's highly effective data-driven road safety awareness programs. In particular, the 2017 UAE Seat Belt Survey and successive lobbying efforts were recognized. RoadSafetyUAE's submission was titled 'Research-based lobbying for the introduction of the Holistic Seat Belt Law in the United Arab Emirates.' The award affirms the contribution this initiative has made to improving the UAE's seat belt laws.
Congratulating RoadSafetyUAE, His Royal Highness Prince Michael said: "This is a fine example of the work of an NGO in encouraging a government to act."
We issued a press release today, which you can download here:
His Royal Highness Prince Michael of Kent awards RoadSafetyUAE – Dec 2018 London FINAL
More about the Prince Michael International Road Safety Award (PMIRSA):
http://www.roadsafetyawards.com/