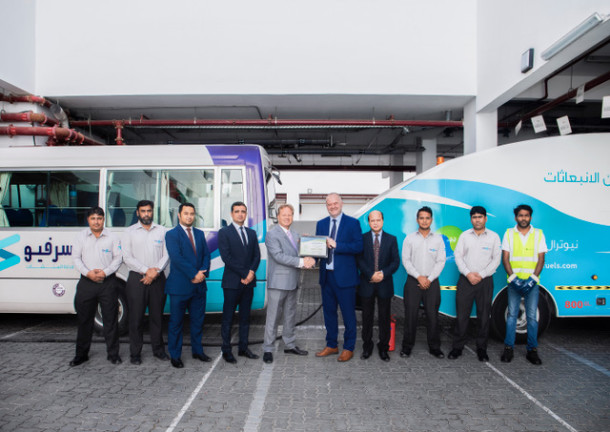 Our CSR-Partner Neutral Fuels concluded just another exciting project!
Dubai, UAE, 29th March, 2020 – ServeU, a facilities management company and subsidiary of Union Properties, has switched staff transport buses to biofuel in an effort to reduce its carbon footprint.
The company, which employs more than 5,000 people to manage the facilities of 600 of the UAE's biggest government departments, banks and hotels, has moved from fossil diesel to B20 biofuel, a blend of 100 percent pure biodiesel and regular ultra low sulphur diesel.
"When we transport our staff to clients across Dubai using fossil diesel, we emit CO2 which contributes to greenhouse gases. This is what we are seeking to address with the switch to B20 biofuel," said Jalal Saleh, Transport Manager at ServeU.
"We are focused on cutting back on our carbon emissions and successfully mitigating their adverse effects on the atmosphere. The transition to biofuel has been so smooth that it has gone largely unnoticed. No engine modifications are necessary, which has made it a very easy switch," he added.
The B20 biofuel is being provided by Neutral Fuels, a Dubai-based company that is the largest producer of net zero fuel in the GCC. By converting waste cooking oil into biodiesel for trucks, buses and generators, Neutral Fuels has also developed and embedded technology to ensure cost savings, while generating data that gives its customers like ServeU detailed insights into their unique fuel consumption variations.
Karl Feilder, chief executive and founder of Neutral Fuels says: "This enables our customers to reduce fuel losses, which cuts operating costs. Our own cloud-based data portal manages the movement of feedstock and fuel, using hand held apps and IoT sensors which report to our control room. An embedded AI engine also ensures customer fuel supplies never run out, and enables us to create a full supply chain audit trail for each customer."
The Neutral Fuels dual logistics solution for ServeU enables them to refuel at the Neutral Fuels biorefinery in Dubai Investment Park and at ServeU's Al Quoz staff accommodation.
"Time-efficient and cost-effective logistics are an inherent part of our biofuel offer," Feilder said.
Since 2011, the direct actions of Neutral Fuels have resulted in a reduction of more than 15 million tonnes of CO2 for restaurants, hotels, construction companies, corporations, transportation fleets and buses.
Check out a piece of press coverage – Facilities Management Magazine
Check out more about our CSR-Partner Neutral Fuels – click here and lots of interesting content on LinkedIn