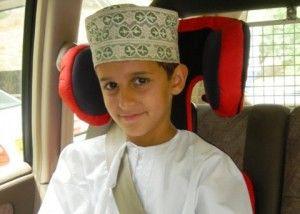 This week marks the 'Third UN Global Road Safety Week 2015 (4-10 May)' - #SaveKidsLives – seeks to highlight the plight of children on the world's roads and generate action to better ensure their safety.
In the UAE, one child died every week in UAE road accidents last year,  with most killed because their parents failed to buckle them up! 55 people aged below 18 years lost their lives! Besides a needed swift implementation of a holistic seat belt law, there is a need for parents to get more serious about their children's safety!
It is so simple: If you love your Kids, buckle them up!
According to the UN, overall, child restraints reduce the likelihood of a road traffic fatality by approximately 70% among infants and between 54% and 80% among young children. Child restraints include infant car seats, child car seats, booster seats and seat-belts, and their use depends on the age, weight and height of the child.
Refer to: http://www.roadsafetyuae.com/child-seats/
We are very grateful, that the Indian Embassy of the UAE, Abu Dhabi supports our efforts to create awareness for the Third UN Global Road Safety week by sending this letter to their database:
3rd UN Global Road Safety Week – India Embassy – Message 2015