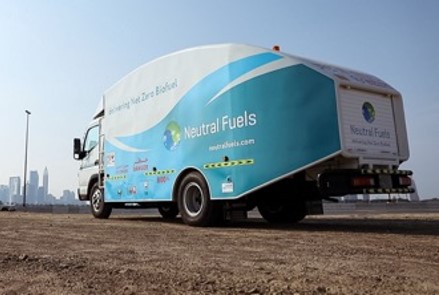 FUTURISTIC NEW FUEL TANKERS TAKE TO THE ROADS
Have you seen them yet?
Dubai – December 2020 – Watch out Dubai, here comes the future! Neutral Fuels, maker of the fuel of the future, is now delivering its biofuel in futuristic fuel tankers which look right at home in our modern city.
The revolutionary new design, never before seen in the UAE, is a teardrop shaped tanker designed to reduce air resistance and cut fuel consumption by 6% – 10% compared to regular fuel tankers.
Karl Feilder, CEO and founder of Neutral Fuels, says the aerodynamic design and distinctive visual branding align with his company's core values. "We do everything we can to improve the fuel economy of our customers so it makes sense to do the same in our own tanker fleet. As for the distinctive branding, our customers will clearly be seen to be taking delivery of net zero biofuel, showing that they really care about reducing their carbon footprint to mitigate climate change."
Neutral Fuels tankers are fitted with the company's sophisticated bespoke iFuel digital fuel management system which helps customers improve their operational and cost efficiencies. Using an artificial intelligence engine, a cloud-based data portal, and hand held apps and IoT sensors, the system reports to the Neutral Fuels control room. Here, a full supply chain audit trail is created for each customer. The system provides detailed insights into customer fuel consumption to enable them to reduce fuel losses, and ensures that customer fuel supplies never run out.
Neutral Fuels has expanded its fleet to meet the growth the company is experiencing as businesses increasingly understand that biofuel is the quickest way to reduce their environmental carbon footprint. "Since we started making biofuel in the UAE in 2011, we've grown steadily but we've never seen awareness and demand as high as they are now. With more companies using biofuel than ever, we have increased hope for the future of the planet," says Feilder.
The most distinctive feature of the new Neutral Fuels teardrop tanker is its curved roof which sweeps down towards the back of the vehicle to reduce wind resistance and turbulence, improving fuel efficiency. The tanker has a low height profile of four meters. The design is approved by the Roads and Transport Authority and Dubai Civil Defence.
Neutral Fuels is the largest producer of net zero fuel in the GCC. Since 2011, its direct actions have resulted in a reduction of more than 13 million tonnes of CO2e for restaurants, hotels, corporations, transportation fleets and buses.
Contact
Karl Feilder, Founder and CEO of The Neutral Group
+971 50 188 6508
kwf@tng.ae
https://www.neutralfuels.com