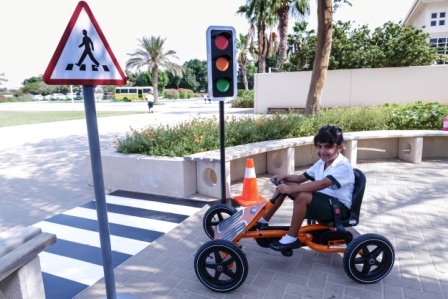 Tomorrow's Drivers Learn About Road Safety Today
'My First License™ – I Know My Road Rules™' a road safety initiative by BMW Group Middle East and Ciel Events teaches 5,000 school children about road safety awareness
UAE. From 15 to 26 November, 'My First License™ – I Know My Road Rules™' – a campaign by BMW Group Middle East and Ciel Events – saw over 5000 children across six schools in Dubai and five schools in Abu Dhabi learn about basic road rules and signs, as well a safe driving behaviour during a series of fun and interactive in-school events.
Aimed at raising awareness around the importance of road safety, the initiative was the next chapter of BMW Group Middle East's award-winning road safety campaign 'Stay Alert. Stay Alive.', which encourages people to buckle up, every time. This time, however, the campaign targeted tomorrow's drivers.
The participating students, aged between four and nine, first attended a briefing with an instructor who ran through a well-designed road safety rules booklet. Then, using miniature cars, the junior drivers learned to navigate a network of road signs, zebra crossings, a roundabout and traffic signals. After successfully completing the challenge, each student was given their first personalized plastic license card with their age and photograph, endorsed by the Dubai Police, Abu Dhabi Police and the Knowledge and Human Development Authority (KHDA).
Speaking on the introduction of the campaign in Abu Dhabi, Col. Jamal Salem Al Ameri, Head of Public Relations, Traffic and Patrol Directorate, Abu Dhabi Police said: "We welcome the move by BMW Group and Ciel Events to introduce the 'My First License™ – I Know My Road Rules™' in Abu Dhabi schools. It is a great effort and is a pressing need of the day to make sure that our children are given the right guidance at an early age. We are happy to be a part of this campaign and are sure that it will have a good impact in their future behavior."
Comments from the children at each of the participating schools was testament to the success of the campaign. Sabrina, who is in Year 4 shared her learnings: "I have learned about different signs, for example, the blue sign tells you to go left or right." Talking about road safety, she added" "When you're on the road you should never talk on the phone. You should ask your dad to turn off his mobile phone and always drive safely."
The 11 participating schools included GEMS Wellington Academy, Rashid School for Boys, Latifa School for Girls, Raffles International School, GEMS Modern Academy, Deira International School, Al Yasmina School, GEMS American Academy, American Community School of Abu Dhabi, The Cambridge High School and GEMS Cambridge International School.
Since the launch of the 'My First License™ – I Know My Road Rules™' programme in schools across Dubai in 2011, more than 20,000 students from 37 schools have been able to participate in an interactive learning programme that instills the importance of road safety awareness in school children.
In 2010, the BMW Group Middle East launched its road safety campaign 'Stay Alert. Stay Alive.' with a focus on enlightening the public about the importance of buckling up and using appropriate child car seat restraints. The campaign has been as a resounding success across the GCC countries and Jordan with almost 10,000 child safety booster cushions distributed complimentary to parents through public awareness events and strategic partnership. The campaign has also been extended into various universities to tangibly display to students the devastating effects of not practising safe driving. To date 'Stay Alert. Stay Alive.' has garnered widespread acclaim and recognition, winning numerous awards and accolades.