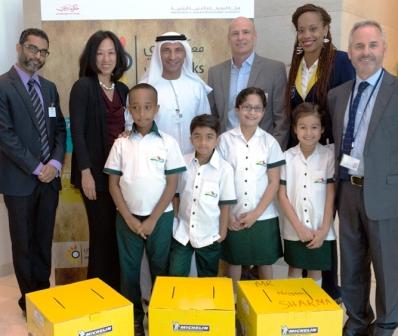 Road Safety Partnership rolls out in Dubai's Private Schools
KHDA  invites RoadSafetyUAE.com and Michelin to participate in "What Works Maths+"
'Train-the-Teacher' concept to roll-out Michelin's successful road safety concept
Targeting more than 240,000 kids
A few days ago, a Train-the-Teacher' concept for road safety was presented by RoadSafetyUAE.com and Michelin at "What Works Maths plus", an event series of the Knowledge and Human Development Authority (KHDA), which offers a unique opportunity for schools to regularly come together to share best practice, to provide support and guidance to each other to advance education in Dubai.
The 'Michelin Man Academy' concept of using education and entertainment to empower children has reached 6,000 students to date. In partnership with RoadSafetyUAE.com, the Michelin Man Academy created a 'Train-the-Teacher' program extension, and this was recently rolled out at the KHDA "What Works" educator sharing platform.
Hind Al Mulla, Chief on Engagement of KHDA commented on the initiative: "KHDA's 'What Works' series provides a platform for Dubai's private schools to share positive practice in education. Safety on roads is one of the pressing issues that needs the schools' full attention. Therefore, Road Safety UAE and Michelin were invited to address the attendees of What Works Maths plus."
"Road safety is of strategic importance for the education sector. RoadSafetyUAE.com endorsed the 'Michelin Man Academy' and supported the development and the positioning of the 'Train-the-Teacher' program extension. KHDA was fantastic in providing us the stage to address all Dubai private schools who cover more than 240,000 students", states Thomas Edelmann, founder of RoadSafetyUAE.com.
Rebecca Lee, Michelin's Director of Communications and Brand Image Middle East, Africa & India underlines: "Michelin is committed to corporate citizenship and to road safety, much beyond tyre related safety. Our commitment includes and focuses on the primary school kids, since we believe in habit creation at a young age. In order to reach more kids, we extended our Michelin Man Academy with a 'Train-the-Teacher' delivery option and we are looking forward to a multi-fold reach in 2015. We thank KHDA for their encouragement and their support."