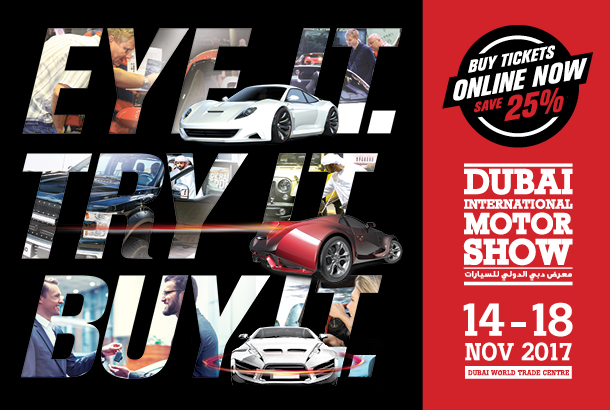 Get into gear for all things auto! Tickets now on sale for 2017 Dubai International Motor Show. Save 25% if you buy online!
Tickets are now on sale for the 2017 Dubai International Motor Show. The 14th edition of the Middle East's premier automotive event promises to be the biggest, best and most action-packed in the show's 28-year history, with something for everyone, from serious car buyers and petrolheads to car-mad kids and families.
Visitors will witness hundreds of exciting global and regional car, bike and product launches across, from sedans, SUVs and supercars to souped-up customised motorcycles and the latest innovations in car tech and automotive lifestyle.
Special features at the show will include the Test Drive Fiesta, where visitors can register to test out some of the latest models on the market; a Race Room featuring simulators for children with our partner Dubai Autodrome; Outdoor 'adventures' with Toyota and a 'Touch The Truck' competition, where the last person with one hand still on the truck, will drive away with the vehicle. Refuel with freshly-made pizzas and feet-tapping live jazz performances in association with Pizza Express Ignition Live in association with Motoring Middle East will feature a range of automotive industry experts hosting talks and providing industry insights, from the latest in automotive innovations to how to become a car star on Instagram.
The show will also feature a host of family-oriented activities while the 'Boulevard Of Dreams' – a dedicated zone for supercars, is sure to draw in the crowds.
Tickets packages include:
-          Single Day Adult Pass: Now available online for AED50 online; AED 65 on-site
-          Two Day Adult Pass: AED100 online
-          Single Day Child (12 – 18 year) Pass: AED30 online
-          Kid (below 12 year): FREE
-          Government Employee Single Day Adult Pass:  AED45 online
-          Family Package Single Day Pass: Adult AED50, Child AED25 online for minimum two adults and two children
-          Group Package Single Day Pass: Adult AED50, Child AED25 for minimum four adults and two children
The 2017 Dubai International Motor Show is open from 6pm to 10pm on Tuesday, 14 November; 11am to 10pm on 15 November; 11am to 11pm on 16 November and 17 November; and from 11am to 10pm on 18 November.
Buy tickets here before 14 November and save 25%!
For more information visit the show's website at: www.dubaimotorshow.com