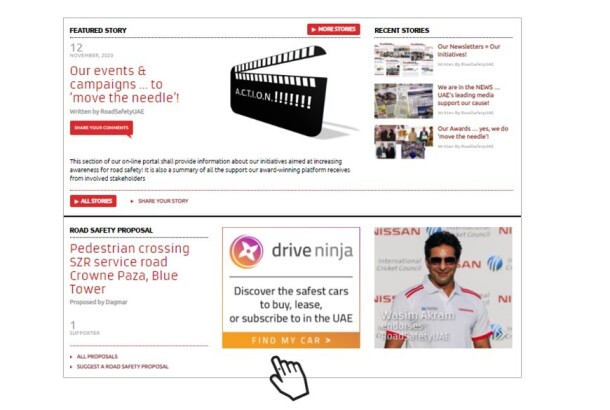 Article published 15-Mar-2021
'Safe vehicles' are a vital component of road safety. State-of-the-art vehicle safety features play an important role in new car purchase decisions. Automotive brands OEMs cater to this need by offering ever more safety features like emergency braking systems, blind spot warning systems, lane departure prevention systems, ISOFIX child car seats systems, to name a few.
Now more than ever, safety is a key concern for all of us. RoadSafetyUAE wants to support the growing public safety desire by endorsing Drive Ninja's unique safety-related search & selection tool for new cars. We teamed up with Drive Ninja to make it easy for prospective new car owners to select their new car based on safety criteria.
We feature a new banner box on our landing page http://www.roadsafetyuae.com/ which takes users right to Drive Ninja's selection portal to choose from the 'Top 5 Safest SUV's in the UEA', Top 5 Safest Small Cars in the UAE', 'Top 5 Safest Sedans in the UAE', 'Top 5 Safest Sports Cars in the UAE', and more.
We issued a press release which got translated and distributed by our CSR-Partners AETOS WIRE, resulting in 91 articles and a media value of USD 318k – check it out!