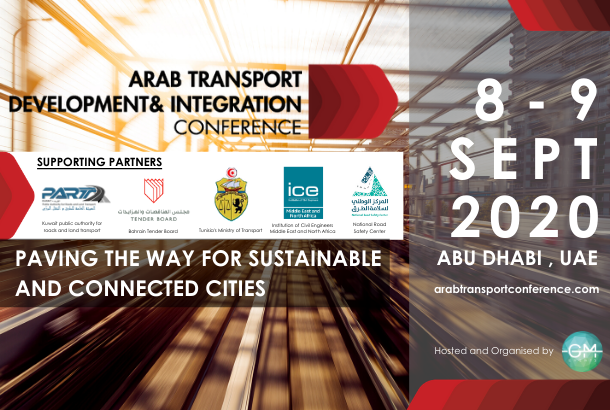 Event Name: Arab Transport Development & Integration Conference
Event URL:  https://bit.ly/3a9ZYgW
Dates: 8 – 9 September 2020
Venue: Abu Dhabi, United Arab Emirates
Description:
Land transport development projects continue to be among the largest infrastructure investments across the Arab region and remain a top priority for governments in line with their ambitious urban planning and developments.
Total value of active infrastructure projects in the GCC has reached to US$1.14 trillion with roads, highways and bridges among the highest number of projects. There are a total of 1,069 road projects in the region, the highest number among all infrastructure projects, with a combined value of US$122.6bn.
The Arab Transport Development & Integration Conference is a regional gathering of government officials, project owners, contractors, consultants, private investors and solution providers from across the transport sector to discuss transport planning and masterplans, latest design and engineering strategies, future transportation demand planning, project investment models for the development of the regional transport ecosystem covering land transportations including roads and bridges, rail, tunnels and public transportation.
The event will feature an international exhibition which will create a new avenue for international companies to showcase their latest innovative product range to the transport sector.
Hashtag: #ArabTransport