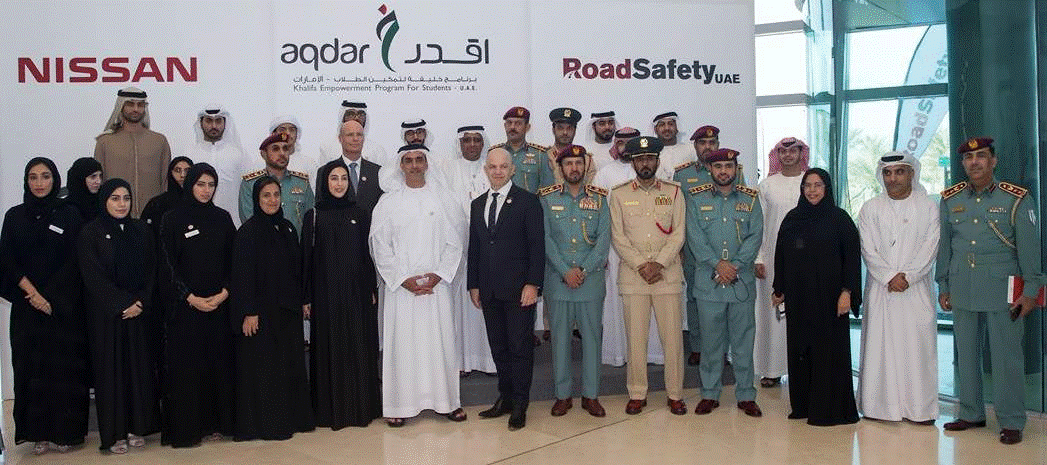 Link to the progam site: www.aqdardrivesafely.com
On 9-January and under the Patronage of His Highness Sheikh Saif bin Zayed Al Nahyan, the 'Aqdar Drive Safely' university program was launched at the Zayed University, Abu Dhabi. The program was jointly developed by Aqdar, our CSR partner NISSAN and RoadSafetyUAE.
The launch was fantastically supported by the presence of HH Lt. General HH Sheikh Saif bin Zayed Al Nahyan, Deputy Prime Minister and Minister of Interior, HH Sheikha Lubna Khalid Sultan al Qasimi, Minister of State for Tolerance and HH Sheikha  Shamma bint Sohail Al Mazrui, Minister of State for Youth, as well as by HE Lt. General Saif Abdullah Al Sha'far Undersecretary at the Ministry of Interior, HE Major-General Mohammad Saif Al Zaffin, chairman of Federal Traffic Council and assistant commander-in-chief of for Operation Affairs for Dubai Police, HE Saif Rashid Al Mazrouei, Executive Director of Ministry of Higher Education & Scientific Research / Consultant of Minister, HE Marwan Ahmad Al-Sawaleh, Assistant Undersecretary of Support Services at the Ministry of Education and many more dignitaries.
His Highness Sheikh Saif bin Zayed Al Nahyan, said, "This initiative is in-line with the vision of our President, His Highness Sheikh Khalifa, who has declared 2017 as the 'Year of Giving' and builds on the first pillar of creating a sense of community responsibility in the private sector. The safety of our youth is everyone's responsibility and this collaboration demonstrates the effectiveness of successful public – private sector cooperation."
The launch took place today at Khalifa University in Abu Dhabi, and builds on the "Express your Love for UAE" initiative.
The official video for the 'Aqdar Drive Safely' program was launched by His Highness at the event and across social media channels, with His Highness leading a tour of the displays and exhibits onsite, in addition to making the first pledge of the program to refrain from using a mobile phone while driving.
"The safety and prosperity of our nation's greatest asset, its youth, is of paramount importance to the leadership of the UAE. Having the patronage of His Highness Sheikh Saif Bin Zayed Al Nahyan is a testament to the commitment our great leaders have made to end the tragic, unnecessary loss of life among young people," said Colonel Expert Dr. Ibrahim Mohammad AlDabal, General Coordinator of the Khalifa Empowerment Program for Students. "The UAE's Vision 2021 strategy sets a clear target of reducing road fatalities by 50 percent, and we are proud to partner with a global automotive leader like Nissan to help make this happen."
Together, Nissan and Aqdar aim to instill safety and awareness in the minds of young drivers by engaging and rewarding them. As a 'for students by students' initiative, the program strives to reach a younger generation and communicate on their level through other students. This is widely seen as a more effective way to drive the safety message home.
"As a global automotive leader, Nissan is determined to find solutions to two main issues facing humanity; gas emissions and road safety," said Samir Cherfan, Managing Director of Nissan Middle East. "Nissan's twin goals are zero emissions and zero fatalities. We aim to bring deaths and serious injuries from accidents involving Nissan vehicles down to virtually zero in two ways. Firstly, by continuing to develop our technologies, and secondly, by cooperating with local authorities who are investing in corporate social responsibility programs to change driver behavior. Nissan is a strong believer in public/private sector partnerships, and is proud to be involved in such an initiative that has tremendous relevance in the 'Year of Giving'."
This year's program theme is 'Usage of Mobile Phones while Driving', and requires students to develop three elements for submission; a road safety campaign, a mobile phone application and a sculpture. The top three winners in each category will receive cash rewards totaling AED 180,000 and will earn the opportunity to implement their projects in the UAE with the support of Nissan Middle East.
"Using mobile phones while driving is a key factor in many accidents involving youth," said Thomas Edelmann of RoadSafetyUAE. "According to the UAE's Ministry of Interior, approximately 63 percent of all traffic accidents during the first nine months of 2015 were caused by individuals aged between 18 and 35, and accounted for approximately 34 percent of all road fatalities. The use of mobile phones while driving was widely recognized as the main cause of car accidents among these young drivers."
Student submissions for the 'Aqdar Drive Safely' program will be reviewed by a specialist jury and judged on a number of factors including sustainability, style, reach and effectiveness. The jury will comprise of key figures from the community including representatives from government, Nissan Middle East, RoadSafetyUAE, and road and transport safety experts.
To help drive engagement, Nissan is encouraging everyone to take a pledge on the program website or during the road shows visiting numerous locations across the UAE. Pledgers who commit to stop using a mobile phone while driving will have their photos showcased on a fleet of Nissan vehicles participating in the road show.
Complementing the program activities and road show is a widespread social media campaign to drive awareness among students – the initiative's main audience, reaching them via their favorite social channels.
Information on the program will be available at www.aqdardrivesafely.com where participating students will be able to submit their entries.