On 1-November-2013 we launched our Corporate Social Responsibility (CSR) & Engagement Platform RoadSafetyUAE with the aim of raising awareness for proper conduct on UAE roads in an innovative, holistic, permanent and broad manner.
Now, 5 years later we are looking back at an absolutely delightful and intense journey. We want to thank all of our partners & supporters and all involved stakeholders for having worked with us so greatly on our cause.
A very big 'Thank-You' goes to all our current and past CSR-partners! We love working with you, as your power to activate the touch-points of your eco-systems helps us to 'move the needle' for our cause. These are our current CSR-Partners: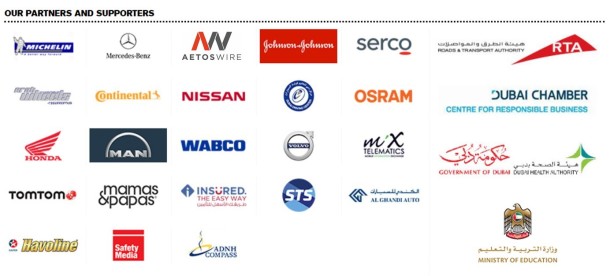 In addition, we want to thank all our CSR-Partners who have been with us at one point in time during the last 5 years: ABB, ADNOC, Al Fahim – Eastern Motors, Al Futtaim Automotive, Al Hilal Bank, Al Masaood, AMEC Foster Wheeler, Audi, Axa, BMW, Careem, Daman, Deliveroo, Dubai Properties – Dubai Holding, dubizzle, EGA (Dubal, Emal), Emarat, ENOC – AutoPro, Galadari Mazda, Galadari Motor Driving, Gargash Insurance, Habtoor Motors, JustKidding, Mercedes Gargash, MMI, Pepsi, Pernod Ricard, Red Bull, Valvoline, Zurich, 3M.
Jointly with our CSR-partners, and also supported by public stakeholders like Dubai Police, RTA, Abu Dhabi Police and many more, we conducted a series of innovative and often 'first-ever' road safety initiatives like events & conferences, behavior studies, consumer promotions, PR activities, celebrity endorsements, staff engagement activities, lobbying efforts, and more.

A very special 'Thank-You' also goes to UAE's leading media who have been supporting us so strongly! Our 40 media bursts resulted in more than 4,500 articles, creating a media value of more than US$ 15 Million for our cause! As our mission is to raise awareness for proper conduct on our roads, the fantastic media support is vital for us!

We are thrilled to having received a number of prestigious awards on country, regional and global level for the work we jointly conducted with our CSR-Partners and other involved stakeholders. These recognitions are amazing compliments for the quality, reach and consistency of our joint efforts!
We are 5 years old and going strong! We are proud of having witnessed a strong drop in fatalities on our roads in the last 5 years. Still, more needs to be done. We are committed to continue contributing to the overall road safety objectives with our partners and with our work. The support for our CSR & Activation Platform is strong, with more powerful brands joining us soon. We will see more activities and the momentum is unbroken. In advance many many thanks for all your support!