Article created 17-July-2021
IRF World Meetings have constituted important focal points for the sector ever since the first World Meeting was held in 1952 in Washington, D.C. The 17th edition, held in Riyadh in 2013 continued this proud tradition and set new standards for scale and international relevance.
IRF World Meetings are a privileged opportunity to set strategic orientations for the sector (notably through the form of "Key Messages"), and to establish a roadmap reflecting the mix of policies and investments needed to achieve these. As such the presence of senior policy makers, thought leaders and road professionals from different regions of the world is an essential component of these meetings.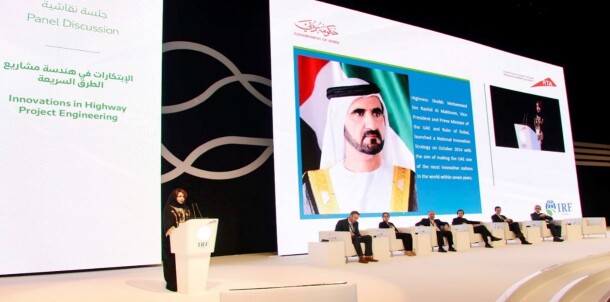 18th IRF World Meeting & Exhibition
Dubai, one of the world's iconic cities, has been designated to host the International Road Federation's World Meeting & Exhibition in November, 2021.
The 18th IRF World Meeting aspires to be a global summit & technology showcase that is both uniquely relevant to a wide cross-section of road mobility stakeholders, and focused on delivering solutions to the world's pressing mobility questions.
Particular attention will be paid to emerging challenges such readying road infrastructure to autonomous vehicles, advanced travel demand management, safety of vulnerable road users, and energy-efficient infrastructure, to name a few.
A large-scale exhibition running alongside the World Meeting will offer delegates an opportunity to further their understanding of advanced road construction & mobility concepts in an immersive environment.
Who Will Attend
Highway Agency & Municipal Staff
Construction Contractors, Engineers & Managers
Design Consultants, Engineers & Managers
Equipment Manufacturers, Suppliers and Distributors
Public Transport / Mass Transit Operators
Transport Research Institutes
University Researchers and Professors
Engineering Services Professionals
Traffic Technology and ITS Consultants, Engineers and Managers
To REGISTER – click here!
For MORE INFORMATION on the event – kindly contact enquiry@irfdubai2021.com