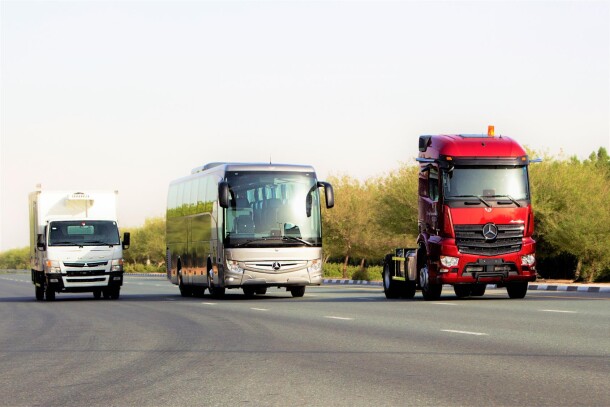 To improve truck safety and to prevent major accidents, drivers have to know and observe the traffic rules carefully and truck operators have to make sure their trucks are well maintained and comply with the latest safety requirements.
Heavy vehicle crashes claimed more than 200 lives in the last 15 years (Gulf News article)
Check out the safety philosophy of our CSR-Partner Daimler Commercial Vehicles MENA  for their Mercedes-Benz and FUSO Trucks - click here
How to do it right:
From car/motorcycle driver's perspective:
Trucks are bigger and heavier than cars and lighter vehicles, and they require a lot of room when they are turning hence:
Watch out – they require a longer distance to safely stop
Don't cut in front of trucks, especially when they are slowing down to stop, because you may not leave them enough room to stop safely behind you
Trucks have bigger blind spots than cars (next to the truck's left door, directly behind the truck and immediately in front of the truck)
If you cannot see the truck driver in the truck's mirror, they cannot see you either!
Keep a safe distance from a turning truck, they might need to cut into other lanes to turn
Never attempt to overtake a turning truck, (for example in a round-about!)
Trucks can alter the wind conditions, for example side winds and this can impact light vehicles and especially motorcycles and bicyle riders
Delivery trucks, garbage trucks and similar might stop unexpectedly  - watch out!
Watch out for trucks parked on the hard shoulder (Dubai Police issued this warning!)
From a truck driver's perspective (source RTA):
Do not rest / park on the hard shoulder (Dubai Police issued this warning!)
Know your vehicle – height, weight, and load limit.
Do not exceed vehicle load limits. Ensure that the vehicle you are driving is suitable for the load.
Restrain the load so that it can not move, or fall, whilst driving.
Keep your vehicle in good mechanical condition. Conduct a daily vehicle inspection.
Plan your trip in advance. Allow sufficient time to reach your destination – do not rush.
Fasten your seatbelt (every trip).
Alter driving to suit weather conditions.
Do not be under the influence of drugs and alcohol.
Learn to recognise driving situations that can be hazardous. Utilise the height of your vehicle to see further ahead. Take note of improper driving actions of others and do not repeat them.
Allow sufficient space between you and the vehicle in front – do not tailgate.
Do not exceed the speed limit for heavy vehicles. This is displayed as the lower speed limit on a speed sign.
The faster you go the more likely you are to have a crash. Speed is a contributing factor in 80% of all crashes in Dubai.
Obey all traffic signs and markings. Never try to beat traffic lights.
Watch for cars entering the road ahead, changing lanes or turning
Plan and signal well ahead when you want to change lanes or overtake.
If you are not sure that you have enough time to turn safely or change lanes, just wait. A few seconds or minutes could save your life.
Concentrate, keep your mind on the road.
Stay alert. Take rest breaks whenever possible.
Expect the unexpected from drivers.
Watch for pedestrians
Whenever practical, pull over and check the load remains securely stacked.
If possible avoid driving at night.
Source: http://www.rta.ae/wpsv5/eservices/PDF_Catalog/Truck_Bus_Handbook_EN.pdf
From truck operator's standpoint:
Policy:

Develop and implement a road safety policy
Establish a fleet safety committee that includes both management and employees which meets regularly to discuss improving safety
Set a measurable targets for improvement in fleet safety

Driver Safety:

Proper driver recruitment process
Conduct effective driver training programs, both initial and ongoing (every year!)
 Ensure drivers and crew are aware of the requirements to wear seat belts and are fully  trained in the specific type of vehicle they will  be driving.
Ensure drivers are always at peak performance through the adoption of a healthy life style and constant training in defensive driving and other road safety techniques and best practices.
Ensure drivers are aware and follow the driving and rest times rules at all times, via careful instruction and management and appropriate transport planning.
Ensure drivers are trained to observe and adhere to speed limits.
Ensure drivers and crew are aware that no alcoholic drinks or drugs are to be taken during working hours and educate them through training of the harmful effects that consumption outside of working time will have on their ability to perform their duties safely.
Drivers should wear a fluorescent jacket when on duty outside the vehicle.
Develop safe vehicle parking procedures and ensure all drivers are trained in vehicle evacuation procedures.
Train drivers in defensive driving techniques and increase awareness of the main causes of vehicle and passenger accidents and how they an be avoided.
Develop driver performance standards (driver fitness, pre-trip inspections, drug and alcohol use, seat belt use, speeding, driver distraction including cell phone use, and driver fatigue)
Explain these standards and policies in a handbook provided to all drivers
Recognize safe drivers!

Vehicle Safety:

Select safe fleet vehicles (anti-lock brakes, electronic stability control, lane positioning sensor; speed limiters, recording systems)
Conduct regular vehicle maintenance and servicing
Share your story