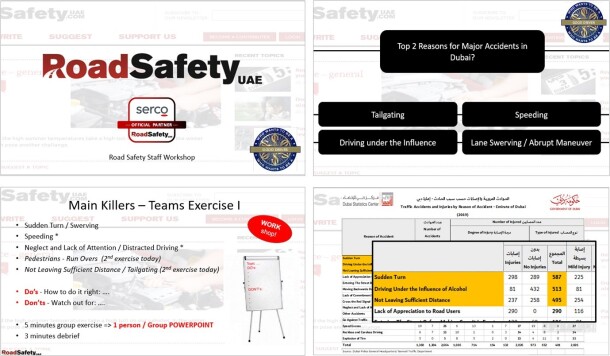 Article published 6-April-2021
Corporate Social Responsibility (CSR) consists of 2 parts: 'Good Citizen' and 'Good Employer'. For the latter in the context of road safety, it's all about protecting the eco-system of CSR-minded companies by educating and raising awareness for proper and safe behavior.
Our CSR-Partner Serco is setting another great example as a 'Good Employer' and we teamed up for our first virtual-delivery Serco Staff Road Safety Workshop. It consisted of general assembly virtual room and break-out rooms for the team work group sessions.
To conduct this 'first' such event for us was truly exciting and we generated valuable learning points for upcoming sessions.
The agenda consisted of:
Warm-Up Exercise: Road Safety Trivial Pursuit
Statistics of UAE's Road Safety
Main killers on UAE's roads – Teams Exercise I
Video - Embrace Life
Teams Exercise II
Debrief