Article published 6-June-2023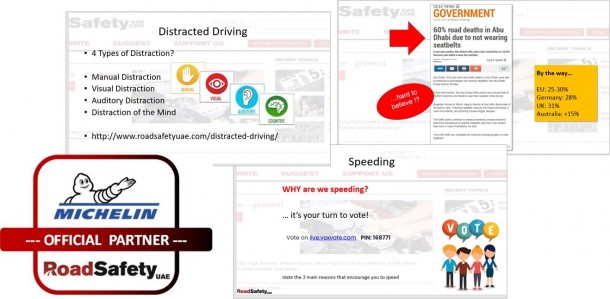 During the 7th UN Global Road Safety Week from 15-21 March, 2023, our CSR-Partner Michelin invited us to hold an awareness seminar for their Dubai office staff, with employees joining in person and virtually, to learn more about 3 vital topics of road safety:
Driving Distractions,
Speeding and
Seat Belt.
RoadSafetyUAE's staff events are always engaging and never a lecture. We believe in' working' with the staff of our partners. We engage with them. We all hold valid driving licenses and we do know how to drive safely. Do we always do it? No. Hence, we want to remind the staff we engage with about dedusting their knowledge and their good behavior, to reflect on their current behavior and to become role models for safe driving!
Michelin is our first and longest standing CSR-Partner and they certainly earn the CSR label of 'Good Employer'!