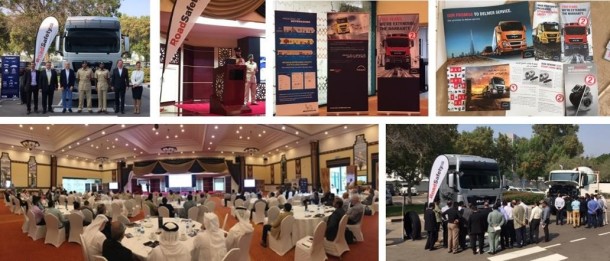 PLEASE NOTE: This event has been moved to 12-November-2017 (from 2-Nov), due to force majeure (UAE flag day was moved from 3rd to 2nd Nov). Should you have registered already, we will consider your registration for the new date. We are very sorry for any inconvenience caused!
Dubai Police Traffic Department, MAN Truck & Bus Middle East and RoadSafetyUAE invite you to attend our TRUCK SAFETY EVENT on the 12th of November where we will showcase our latest road safety solutions and initiatives to help us prevent accidents on UAE roads. Experts from Dubai Police Traffic Department, MAN Truck & Bus Middle East and RoadSafetyUAE will discuss with you how heavy commercial vehicles can contribute to increase safety and reduce fatalities on our roads. Together we can make a  difference in road safety!
WHEN AND WHERE?
Sunday, 12-November-2017
Dubai Police Officers Club from 8:30 AM to 2 PM
BY ATTENDING THIS EVENT, YOU WILL LEARN ABOUT:
Dubai Police Traffic Department's road safety initiatives and solutions to meet the 'UAE Vision 2021′ road safety targets.
The interactive 'Truck Safety Walk-Around' will showcase the latest truck road safety technologies.
How safety measures can help you reduce Total Cost of Ownership.
AGENDA:
08:30 – 09:00 - Registration and welcome coffee
09:00 – 09:30 - Dubai Police – Introduction to Truck Safety and truck related accident statistics
09:30 – 09:45 - RoadSafetyUAE – Truck Safety in the context of road safety in the UAE
09:45 – 10:45 - MAN – Truck Safety
10:45 – 11:15 - Coffee break
11:15 – 11:45 – Michelin – Commercial Tyre Safety
11:45 – 13:30 - Interactive Truck Safety Walk-Around (in groups)
Location: https://goo.gl/maps/a1j5sRrMsar
Registration: http://nizamuddin.io/Serviceplan/MAN/RoadSafety/Registration/index.html
We are looking forward to welcoming you at the event!