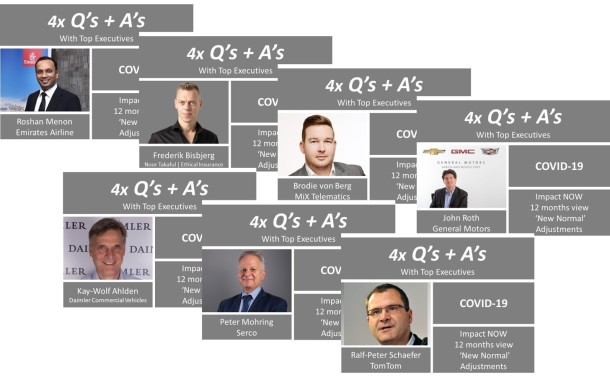 In order to help companies coping with the impact of COVID-19 and to prepare for the future or the 'new normal' as it gets referred to, RoadSafetyUAE reached out to a range of Top Executives in our eco-system for their views. This initiative is part of our 'SHARING is CARING' series we run during COVID-19.
We sincerely want to thank Emirates Airline, Noor Takaful | Ethical Insurance, MiX Telematics, Mercedes-Benz / Daimler Commercial Vehicles, SERCO, General Motors, and TomTom for their valuable views about the impact of COVID-19 to their businesses and their reaction going forward. We asked these 4x Questions:
Q: In what ways has your business been impacted by COVID-19?
Q: Where do you see your business in 12 months' time?
Q: What are the major changes (internal & external) you foresee for the 'new normal' post COVID-19?
Q: In which ways will you adjust your business?
Check out the great contributions:
Emirates Airline, Roshan Menon
Noor Takaful | Ethical Insurance, Frederik Bisbjerg
MiX Telematics, Brodie von Berg
Daimler Mercedes-Benz Commercial Vehicles, Kay-Wolf Ahlden
Serco, Peter Mohring
General Motors, John Roth
TomTom, Ralf-Peter Schaefer