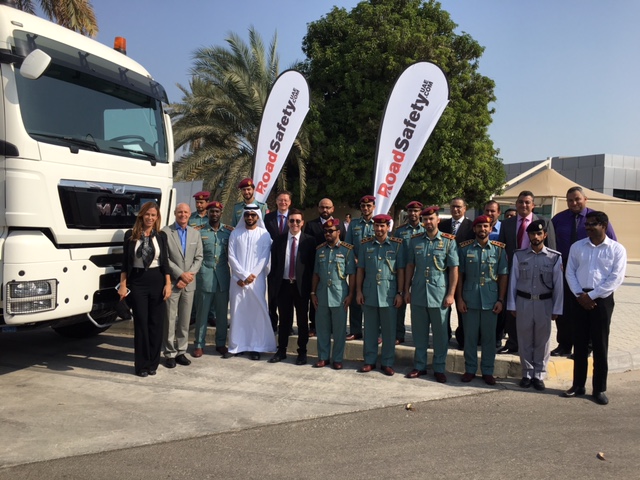 On November 8 + 9, 2016 we held the inaugural Abu Dhabi Police & MAN & RoadSafetyUAE 'Truck Safety Walk-Around & Seminar' at the Abu Dhabi Traffic Police Head Quarters. The morning sessions on both days were attended by enforcement officers and the afternoon sessions by representatives of various segments of the private sector.
We are very grateful for the generosity of our hosts Abu Dhabi Police and the contributions of our CSR partner MAN, who arranged for 2x trucks, an innovative iPad guided walk-around and informative speeches.
Abu Dhabi Police opened the seminar part with an intro about their commitment to improving road safety in general and truck and heavy vehicle in particular. RoadSafetyUAE gave a brief background on heavy vehicle safety. MAN spoke about truck safety in detail and with a strong UAE specific twist. The speeches were followed by lively Q&A sessions.
Following the seminar part, MAN organized 2x trucks for the iPad guided 'Walk-Around' highlighting the most important safety features of their latest generation trucks.
The National newspaper attended the sessions and covered the event in their print edition and on-line: http://www.thenational.ae/uae/transport/uae-lorry-drivers-need-to-know-about-brakes–and-breaks