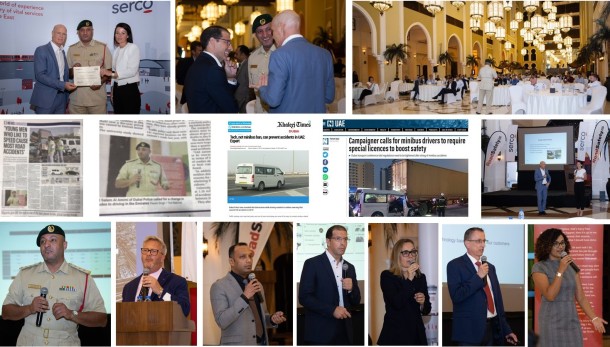 Our CSR-Partner Serco is committed to the safety of its employees and those of the organisations with whom they work. One of the greatest risks faced by employees on a daily basis is road safety.
To highlight this risk, Serco and RoadSafetyUAE were hosting the '4th Serco Road Safety Awareness Day' on 10-October-2019. The event was intended to raise awareness of road safety across the GCC region and a chance to share best practice within organisations and strengthen existing partnerships to ensure employee safety and protect lives.
We welcomed delegates from more than 100 organisations! An exciting list of speakers (Serco, RoadSafetyUAE, Dubai Police, Continental, Emirates Airline, Neutral Fuels, RoadsLink, STS, TomTom), presented their experiences, products and services with regards to road safety, sharing knowledge and best practice on the day.
The attending media covered the event and some of the key topics prominently:
https://www.thenational.ae/uae/dubai-police-officer-calls-for-safer-driving-after-warning-young-emiratis-like-to-speed-1.921729
https://www.khaleejtimes.com/uae/dubai/tech-not-minibus-ban-can-prevent-accidents-in-uae-expert-
https://www.thenational.ae/uae/campaigner-calls-for-minibus-drivers-to-require-special-licences-to-boost-safety-1.921783
Agenda of the meeting:
08:30 Registration
09:00 Serco Middle East and RoadSafetyUAE, Introduction and welcome
09:05 Dubai Police, Road safety update
09:30 Serco Middle East, Safety Culture: Top management leadership & commitment
09:55 RoadSafetyUAE, What drives UAE motorists
10:20 Neutral Fuels, A new sustainable way to fuel your Fleet
10:45 Tom Tom, Data and road safety
11:10 Networking Break
12:00 Emirates Airline, Bus transportation best practice
12:25 STS, Safety in White-Buses (staff transportation) and Yellow-Buses (school buses)
12:50 Continental, Smart tyre safety for buses and commercial vehicles
13:15 RoadsLink, Psychometric testing for commercial drivers
13.40 Closing Remarks