AS OF 1-JULY-2017, it is the law to buckle up in the UAE – EVERYBODY in the vehicle, including children! …"Each person in the vehicle must wear a seat belt – one person-one seat belt…". Children up to the age of 4 years must also be carried in suitable child seats.
A study of Abu Dhabi Police in October 2017 showed, that 60% (!) of traffic fatalities were due to non-wearing of seat belts! Ref.: https://gulfnews.com/news/uae/government/60-road-deaths-in-abu-dhabi-due-to-not-wearing-seatbelts-1.2115314
Seat belts remain the single most effective device to prevent us from death or injury in case of an accident!
Studies show, that seat belts reduce fatalities in vehicle accidents between 45% and 60%, depending on the type of the car and the type of impact. For kids, this value increases to up to 80%!
The risk of death for rear seat car occupants who wear a seat belt reduces by 60%. Wearing seat belts in the back also reduces the risk of dying in the front seat, since during a car crash the risk increases five-fold for the front passengers, if passengers in the back refuse to wear seat-belts.
From whatever angle you look at it: there is simply NO excuse not to wear a seat belt!
UAE Statistics (RoadSafetyUAE and QIC Insured commissioned an YouGov on-line study in February 2017; n=1,013 UAE representative sample):
UAE's first holistic SEAT BELT survey – Part 1 and Children & Seat Belts – UAE's first holistic seat belt survey – Part 2
'To what extend to you ALWAYS use your seat belt?'
1.
As a driver

78%

2.
Front row passenger

71%

3.
Back row passenger (taxi, limo)
11%
'You mentioned that you don't always wear your seat belt or ask your passengers to do so.  Please tell us why?'
1.
When I sit on the back seat, I feel safe enough without seat belt

55%

2.
On short trips, it is not needed to wear seat belts

25%

3.
I am a safe driver and I will not be involved in an accident, hence I don't need seat belts

14%

4.
Other safety features like airbags protect just as well as seat belts

13%

5.
Seat belts are inconvenient to wear

11%

6.
Seat belts crinkle my cloths

10%

7.
Seat belts don't increase safety

6%

8.
It is not part of our culture

5%

9.
I don't like the look of seat belts

5%

10.
Religious reasons

4%
How to do it right!
Make it a routine and habit to ALWAYS fasten your seat belt
No belt – No start!
Before you start your car, EVERYBODY must wear seat belts!
Make sure children are buckled up
Use appropriate child seats or child booster cushions
Even on the shortest of trips, all passengers must buckle up
Use seat belts also when you and/or your children travel on the back seat (for instance in taxis)
Watch out for this
Never allow your kids not to be buckled up, under any circumstances!
Kids get used to the 'uncomfortable' feeling and soon they will understand that it can save their life and health.
Kids should NEVER roam around in the car
Kids should NEVER sit on the laps of other passengers
Kids below the age of 10 are not allowed to travel in the front seat, regardless of wearing a seat belt.
Be aware, that Air Bags do not replace seat belts!
Important links:
5 Reasons to wear Seat Belts: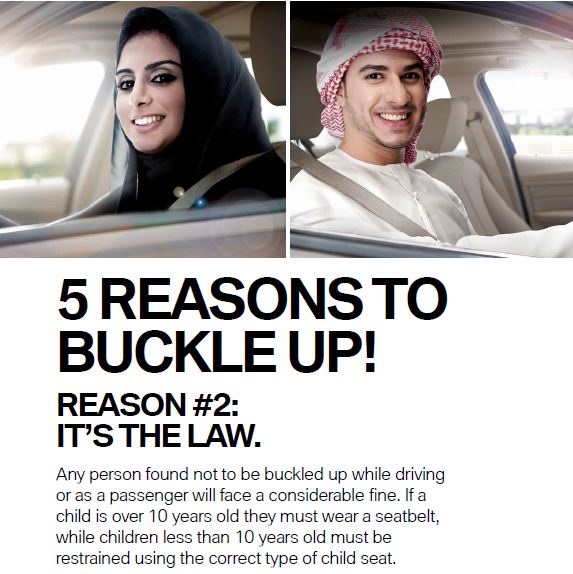 Share your story