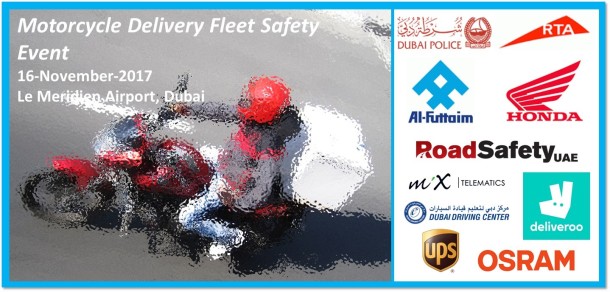 UAE's 'First-Ever' Motorcycle Delivery Fleet Safety Event
16-November-2017
Venue: Le Meridien Airport.
Desired outcome: raise awareness for the safety of motorcycle delivery riders; share best practice on policies; get the view-points of the involved stakeholders; networking with other key stakeholders.
Agenda:
08:30 Registration and Welcome Coffee
09:00 Al Futtaim Honda: Key Note & Introduction
09:30 RoadSafetyUAE: Partnerships to boost road safety
09:45 Dubai Police: General Motorcycle Safety
10:15 RTA: Motorcycle Driving Education Framework
10:45 Deliveroo: Fleet Operator Best Practice on Policies
11:15 Coffee & Networking Break
11:45 UPS: UAE experiences
12:15 Dubai Driving Center: Defensive Driving
12:45 MixTelematics: Telematics for Motorcycle / Case Study
13:15 OSRAM: 'See and be Seen' – Light Technology
13:45 Wrap-Up of the Day
Lunch
Location:  https://goo.gl/maps/P5eeYgaXp7n
Registration (this is a FREE event): Thomas@RoadSafetyUAE.com
We are looking forward to seeing you at the event!