Almost 18% of the death toll on our streets originates from 'running over' of pedestrians. Zebra crossings are designed to guarantee a safe passage for pedestrians. Be aware that motorists are in the stronger position and that pedestrians are in a very vulnerable position, especially at those zebra crossings without traffic lights!  Motorists need to be caring and be extra vigilant when approaching zebra crossings / pedestrian crossings.
How to do it right
As a motorist:
The yield signs at zebra crossings indicate, that pedestrians have right of way – obey it!
Slow down or stop to make sure pedestrians can cross safely.
If there is traffic behind you, use your hazard lights for warning.
If there are 2 or more lanes, and another car already stopped for pedestrians, you must stop, too!
If you approach a zebra crossing and you see pedestrians on the street already crossing, you must stop!
Be very careful, mindful and polite when you approach zebra crossings!
Don't forget: once you step out of your car, you are also a pedestrian and you also desire that drivers watch out for you!
As a pedestrian:
Don't be distracted when using a zebra crossing (get off your phone!)
Establish eye contact with approaching motorists
Be mindful, that you are the weakest traffic participant
Take no risks  and don't force your way (even if motorists have a yield-sign)
Don't cross by red light
Also refer to: http://www.roadsafetyuae.com/pedestrian-safety/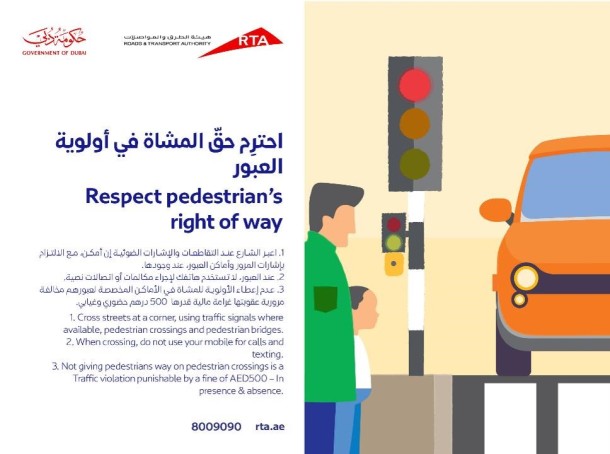 Share your story