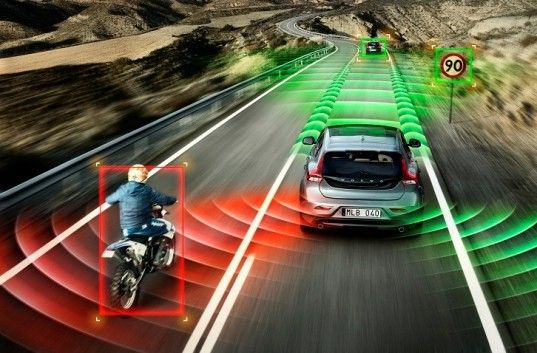 Transport is increasing and safety is becoming even more important. Ninety percent of accidents are caused by driver error. So to handle difficult traffic situations, our vehicles are made smarter than ever before, helping the driver to avoid potentially dangerous situations. Safety and Technology merge together.
Today's Advanced Driver Assistance Systems (ADAS) include, for example, warning systems and driver awareness support. In most cases the driver is simply warned when something is wrong. The next step in safety is to increase the vehicle's intelligence, for example by developing vehicles that can assist the driver in avoiding a crash.
Autonomous driving
The automotive industry has long been focused on the development of active safety systems that operate preventive, such as traction control and braking assistance programs. But automakers have also gone much further in proposing technology that allows vehicles to be operated without any input whatsoever from the person behind the wheel. Known as autonomous driving, this technology means that the vehicles is able to take control over acceleration, braking and steering.
Active steering
Today's Lane Keeping Support warns the driver when the vehicle is about to swerve into a different lane. Researchers are now also looking into the possibility of having the vehicles help the driver to avoid lane change accidents by giving full lateral support.
Intelligent cooperative systems
Intelligent Co-operative Systems involve both communication between vehicles and between the vehicle and the infrastructure. Information on traffic, speeds, positions, accidents and much more will be sent automatically between vehicles and the infrastructure, resulting in increased road safety, reduced congestion, more predictable time frames for travel and much more.
Automated queue assistance
Automated queue assistance is developed to relieve the driver of the tedious task of driving in queues at low speeds. The vehicle will be able to stay in lane and keep a safe distance to the traffic ahead.
Road friction technology
Studies show that there is a correlation between accidents and slippery road conditions. To help prevent this, different kinds of technologies are researched, including optical sensors that measure wavelengths reflected off the road in front of the wheel.
Collision mitigation
A collision mitigation system warns the driver with sound and visual signals when there is a risk of collision with a vehicle in front. It will also autonomously apply the brakes when a crash is imminent. The purpose of course is to avoid, or at least mitigate, the accident.
Unprotected road users
Using sensors the vehicle will be able to detect unprotected road users for example cyclists and pedestrians. This is important when for example turning right in a left-hand-drive vehicle, since the driver often finds it hard to see objects or people on the right-hand side.
Safety systems exist that alerts both a driver and a cyclist when they are in danger of colliding with each other, by a two-way communication system which pinpoints the proximity of a connected car and a cyclist's smartphone app using GPS. The driver will be alerted through the dashboard and a red warning light will flash in the cyclist's helmet so they know to reduce their speed, even before they see the car.
Share your story