Sadly, in a recurring pattern, we witness accidents involving bicycle riders, generating big media interest. This draws a lot of attention to a topic which concerns many residents: the sports and recreational riders on the one hand, but also a big group of the working class, mainly gardeners and delivery/collection men on the other hand.
Here is an interesting overview of the bicycle-related content in UAE' s traffic law (status April 2019): Cycling related content in UAE's Traffic Law – April 2019
How to do it right (as a bicycle rider):
Always wear your helmet
Be in control of your ride and your bike – drive defensively!
Make sure your bicycle is in good conditions, especially the brakes, tires and lights …  have a bell, too.
See & be seen: wear bright colors (ideally reflecting vest), stay aware of the traffic around you, make eye-contact with motorists and pedestrians
If you have to rid on a street, keep to the right hand side
Use hand signals when you have to turn
Obey traffic laws (signs, lights and road markings, etc.)
Use your lights (head light and rear light) in bad light conditions – ideally also during the day, and have reflectors on your bike. Generally, it's a good advise not to ride at night, unless you absolutely have to!
Give right of way to pedestrians
Watch out for obstacles (opening car doors, objects on the road, pot holes)
Use only safe areas to ride your bike, ideally on bicycle lanes (for example the dedicated bike lanes in the Al Qudra area, Nad Al Sheba, Dubai Autodrome, Yas Marina Abu Dhabi, etc.) and try to join groups of riders – get informed: http://www.dubairoadsters.com/events_safeplacetoride.html; http://www.expatwoman.com/dubai/monthly_fitness_nutrition_Cycling_In_Dubai_8984.aspx;
When cycling on roads, ideally, organize a support car which can protect riders from behind
Kids cycling: make sure your kids follow the rules and they are safe!
If you are transporting your kids on your bike, use proper equipment
Watch out for:
If you have to drive on the street, don't drive on the wrong side
Avoid biking by night and in bad light conditions
Don't bike on unsafe roads
Don't bike in areas where biking is prohibited
Don't use your mobile phone while riding
Don't bike under the influence of banned substances
How to do it right (as a motorist):
Bicycle riders are weaker than vehicles, hence be respectful and polite to them
Bicycle riders are equal traffic participants – obey their rights!
Anticipate moves of bicycle riders and don't cut them off
Keep a safe distance (from the side and from behind!)
Be mindful that you can irritate riders with speeding, noise/honking or your head lights
Around riders, use your indicators and make them know your planned moves
Keep eye contact to riders
Be extra careful when you see kids on bikes
Carefully open the door of your car and watch out for bikers
RTA also issued a great article on bicycle safety – check it out!
In April 2019, we worked with Khaleej Times on a comprehensive article about bicycle safety in the UAE: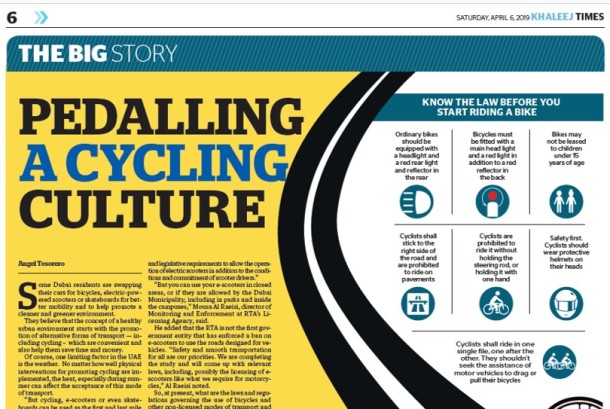 Share your story