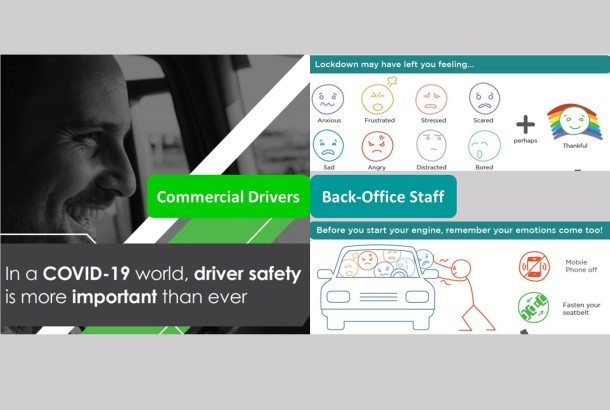 COVID-19 poses road safety threats for both Commercial Drivers and Back-Office Staff Drivers.
Back-office staff drivers: are impacted as COVID-19 disrupts our usual commuting routines from/to work:
Remote workers report significantly higher stress and anxiety levels, compared to office worker, creating a risk when venturing out in their vehicles.
Safe driving skills fade, which occurs when skills are not being used frequently and we drive less.
Accelerated trends to alternative modes of transport from/to work increases the numbers of vulnerable road users such as pedestrians, cyclists,  e-scooters.
Changed road layouts due to the changing mobility mix (for example more bicycle lanes).
It's the employers' responsibility to remind their back-office staff about safe driving! This can happen via internal communication, via internal webinars, virtual workshops, safe driving apps, and much more. Feel free to reach out to us for more information and resources. Remind your back-office staff about these vital points of road safety:
NO MOBILE PHONE
BUCKLE UP!
BE PREPARED - CHECK YOUR VEHICLE & YOUR ROUTE
BE PERCEPTIVE -BE ALERT, ASSESS RISKS
BE PATIENT - STAY CALM, DON'T RUSH THINGS
BE PREDICTABLE - PEOPLE AREN'T MIND READERS
BE POLITE – WE ALL MAKE MISTAKES
The commercial driver / fleet driver: 
As the world collectively fights against the COVID-19 pandemic, driver safety no longer just refers to drivers who do not engage in risky driving behaviors (such as speeding) and avoids crashes but also to drivers who engage in hygienic practices. Cleanliness should now become a part of every driver's work habits, especially those who come into contact with a lot of people on a daily basis.
Taking both types of driver safety into consideration is important in helping you reduce your fleet risk. Firstly, physically healthy drivers mean that they can come into work as they usually do. This means they can keep on delivering services and goods to those who need it, and keep your company going.
Secondly, drivers who drive safely are less likely to get into crashes so there's less risk of them needing to take off sick. By keeping your focus on both these types of driver safety, you can also generate greater societal benefits. Drivers are kept alive and healthy enough to return to their loved ones at the end of each shift and your fleet's due diligence is keeping the health system from becoming overwhelmed, something that is a huge issue to keep in mind during a pandemic.
If you want to know more about what extra measures you need to take right now to keep your drivers physically healthy as well as safe from accidents, take a look at the latest white paper of our CSR-Partner MiX Telematics.
Sources:
MiX Telematics: http://www.roadsafetyuae.com/assets/uploads/2020/07/covid-19-world-driver-safety-is-more-important-than-everME_.pdf
DriveIQ: driveiq-safety-card-covid-19
Share your story