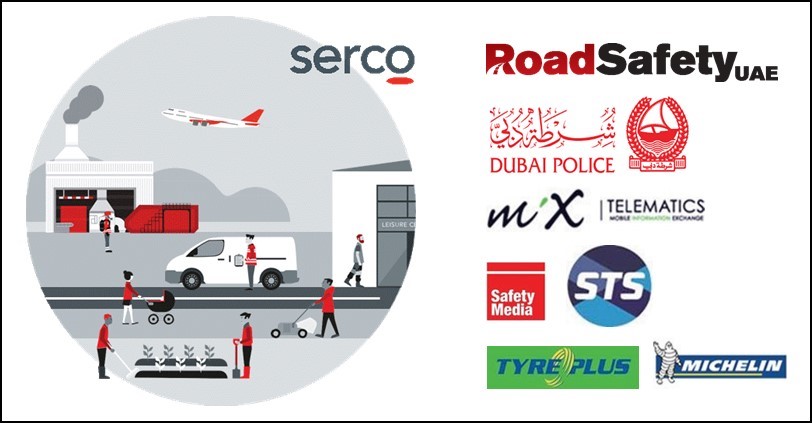 Our CSR-partner Serco, in partnership with RoadSafetyUAE will be hosting their 2nd Road Safety Awareness Day in cooperation with local organisations who will be delivering informative presentations on a variety of related topics.
Tuesday 10th October 17
at Golden Tulip Al Jazira Resort, Ghantoot, Abu Dhabi.(just past Jebel Ali)
(Location : https://goo.gl/maps/UptwRMjuA5w)
09:00 to 14:00 hrs.
RSVP
Carmine Pereira (Safety Coordinator)
+971 50 625 8985 | carmine.pereira@serco.ae
Objectives of the day:
Road safety awareness to all transport companies and bridging the road safety gap by building road safety partnerships to save lives on UAE roads.
Agenda:
09:00am   Registration
09:15am   Introduction & Welcome (David Greer OBE, CEO Serco Middle East).
09:45am   Serco Road Safety Presentation (Laura Kelly, Director Assurance)
10:00am   Road Safety Trends (Thomas Edelmann, MD RoadSafetyUAE)
10:15am   Staff Transport Safety Solutions (Steve Burnell, MD STS)
10:45am   Networking – Tea/Coffee/Snacks
11:30am   Fleet Management & Fleet safety (Brodie von Berg, Mix Telematics)
12:00pm   Dubai Police: Update on traffic improvements & accidents statistics
12.30pm   Tyre Safety (Daoud Helmi, Commercial Director Michelin)
01:00pm   On-line Safety Training (Leonora Franklin, Safety Media)
01:30pm   Vehicle Markings Safety (Nick Broom, PVL)
Distribution of gifts
02.00pm   Outdoor Tyre Clinic – Michelin / Tyre Plus
We are very much looking forward to seeing you at the event!