Unfortunately, we all witness speeding on a daily basis. Not surprisingly, speeding is one of the main contributors to the death toll on our roads. Many of us drive very powerful and fast cars and we have to use those vehicles in a very responsible manner.
If we want to experience the thrill of speed there are option available on our UAE race tracks (both in Dubai and Abu Dhabi) to do so in a safe and controlled environment and under the supervision and guidance of true experts – but speeding on the roads is just a no-go!
Here is some information from the World Health Organization:
Inappropriate speed is a key risk factor for road traffic collisions, deaths and injuries: Exceeding the speed limit, or traveling too fast for road conditions can increase your chances of being in a crash. It's harder for vehicles to safely stop or react to changing road conditions at unsafe speeds. Traveling at the appropriate speed can help drivers successfully avoid crashes.
Speed management is everyone's responsibility, and technology can help: There are a number of steps that all road users can take to help reduce the number of deaths and severe injuries due to speed. Technology can help – reminding drivers of their speed and safety features like automatic emergency braking are proven to help reduce fatalities and severe injuries.
Governments play a key role and should work to design roads that balance mobility and safety: Enforcement is not the only way to help make road safer. Governments can build or modify roads include traffic calming feature, set speed limits that match type and mix of road users, and launch media campaigns to raise awareness. Comprehensive approaches that align with the local context can help.
UAE Statistics (RoadSafetyUAE and Zurich commissioned a YouGov on-line survey in April 2015; n=1005 UAE representative sample): 
| | | | | | | |
| --- | --- | --- | --- | --- | --- | --- |
| What is your reason for speeding? | Average | 18-24 | 25-29 | 30-34 | 35-39 | 40+ |
| Running late | 67% | 72% | 71% | 72% | 65% | 60% |
| For fun/to impress others | 53% | 55% | 62% | 46% | 50% | 50% |
| Out of habit | 45% | 40% | 45% | 45% | 42% | 49% |
| Knowledge of speed camera locations | 39% | 53% | 29% | 42% | 41% | 39% |
| Roads are designed for speed | 27% | 10% | 25% | 37% | 25% | 28% |
| To test car's abilities | 22% | 30% | 25% | 18% | 23% | 21% |
| Speeding is more culturally accepted in the UAE than my home country | 21% | 13% | 18% | 20% | 21% | 25% |
| Unlikely to be caught | 15% | 13% | 11% | 11% | 20% | 18% |
| Speeding fines are too low | 5% | 8% | 6% | 3% | 8% | 5% |
 How to to it right
Adhere to the speed limits at all times
Adjust your speed in 'tricky' situations, for example in curves, on parking lots, when pedestrians are on the street
Adjust your speed in bad weather conditions and watch out for aquaplaning
Adjust your speed in bad weather conditions with limited visibility like fog, rain and sand storms
Make sure that you can stop your vehicle within the distance of visibility
Plan your trip well to be on time without speeding
Watch out for this
There is just no justification for speeding!
You endanger the live and health of yourself and others.
Speed kills!
Even if you run late, the world will not end, but do not speed under any circumstances
Speeding does not shorten time, it shortens life!
Be aware, that even 20km/h can be speeding in situations when pedestrians are around like on parking lots
Watch our for curves – adjust your speed
Watch out for slippery roads (sand or water) – adjust your speed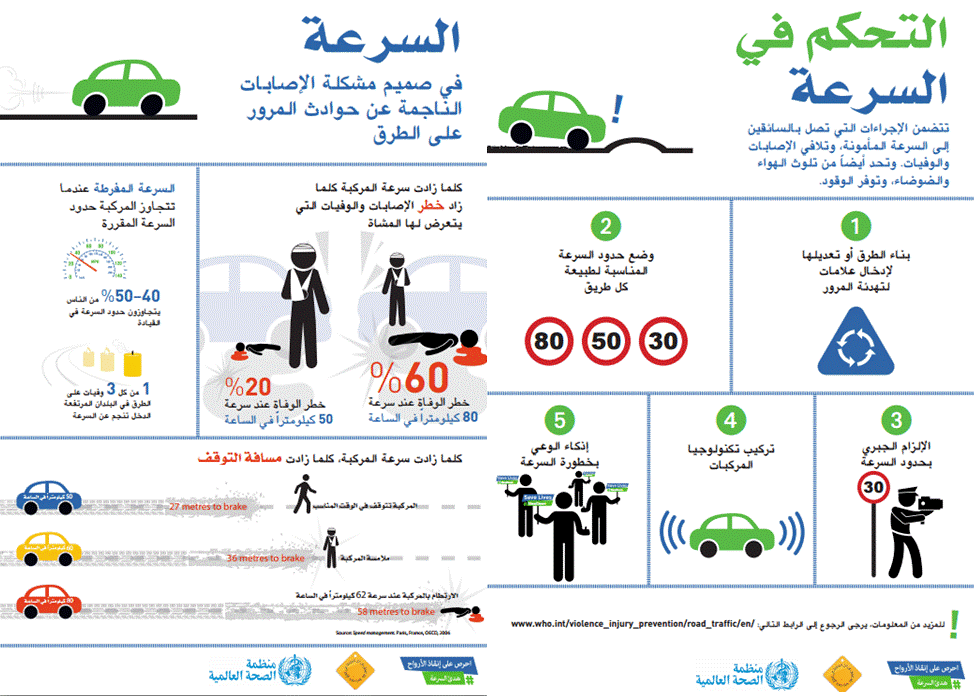 Share your story