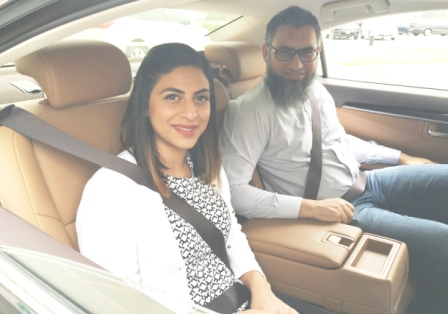 Wearing seat belts in chauffeur driven cabs/limos & taxis should be as much the norm like when we drive ourselves. ALL passengers must wear seat belts ALWAYS. Since 1-July-2017 it's the law!
We see a lot of passengers, especially in the back seats of chauffeur cabs & taxis not using seat belts, including kids. This is dangerous for the passengers, but also for the drivers – since in case of a collision, everything not restraint properly (including passengers on the back seats) becomes a torpedo-like object thrown forward – or sideways, following the direction of the impact. This can be lethal for the passenger and the driver.
In a dip-stick survey conducted in April/May 2016 (n=256), we received the following results when asking: 'In a chauffeur-driven cab/limo or Taxi, do you use the seat belt when:'
In the FRONT seat:  Always 98% – Never 0.4% – Sometimes 1.6%
In the BACK seat:     Always 57% – Never 22%  – Sometimes 21%   => CLEAR potential!!
For your KIDS:         Always 83% – Never 7% – Sometimes 10%      => CLEAR potential!!
Strategically, chauffeur driven cabs/limos and taxis present a huge opportunity for road safety in the UAE, since their 'role-model' behavior can set the example for other motorists to follow, for all road safety related manners (using indicators, road etiquette & politeness, speeding, etc.), and in particular about the use of seat belts: chauffeurs / drivers must always wear their seat belt and they can actively communicate with their passengers and invite backseat passengers and demand from front seat passengers to wear seat belts.
How to do it right:
In the front seat – ALWAYS buckle up!
In the back seat – ALWAYS buckle up!
If you travel with kids:
If you have  a small child who travels usually in a child seat:
Make sure you call a chauffeur cab / taxi offering child seats
In case your small child travels frequently in cabs, consider purchasing a combined child seat & baby stroller.
If you have  a child who travels usually on a booster cushion:
Make sure you call a chauffeur cab / taxi offering booster cushions
Alternatively, take your own booster cushion along, they are light-weight and can be stored in a back pack.
For general tips & tricks for seat belts also check out: http://www.roadsafetyuae.com/fasten-seat-belts/
For child seats check also out: http://www.roadsafetyuae.com/child-seats/
Share your story